Hanging Wall Garden Planter
Transform your home with a stunning wall garden that you can hang outside or indoors.
These wall-mountable planters come in a range of shapes and sizes that you can use to create a hanging-wall garden to suit any space.
Whatever you choose to grow, you're guaranteed to turn an ordinary space into a thing of beauty that your family and friends will love.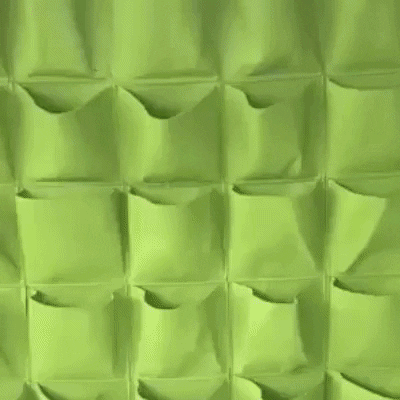 Features:
Use the individual pockets to grow your favorite plants and flowers. Or use them to grow herbs as well as smaller fruits and vegetables.
 Made of highly durable felt material that is non-toxic, biodegradable, and anti-corrosive. You can place soil directly into the pocket or a plant pot.
The water retaining, breathable felt material also allows the pockets to create and maintain perfect soil conditions for healthier, stronger plants.
The planters can be stacked horizontally or vertically to help you cover larger areas. Ensure you see our size chart below to help decide what size you need.
Note:
Although the pockets are made from a strong material that retains water, they could still potentially leak if over-watering occurs. Please consider waterproofing options ahead of indoor installation.
Specifications:
Colors: Green, Black
Material: Felt cloth made of plant fibre
Sizes: See Size chart below
Weight: Depends on size purchased. The 12-pocket version weighs just under 2lbs
Create Beautiful Indoor & Outdoor Hanging Wall Gardens With Ease.

Save With Our Special Offer!